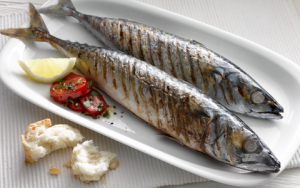 This is a really simple recipe, which takes minutes to prepare, and allows the great flavours of the mackerel to be enjoyed
Ingredients – Serves 4
4 fresh whole mackerel – gutted and cleaned
6 vine ripened tomatoes
½ teaspoon castor sugar
Salt and freshly ground black pepper
1 teaspoon olive oil
1 teaspoon chopped mint, parsley or chives
1 lemon – cut in quarters
To Cook
Cook the mackerel under a very hot grill or on a barbecue for about 3 minutes each side.
While the fish is cooking, cut the tomatoes into slices, arrange in a bowl and sprinkle with the sugar, a little salt and pepper, olive oil and chopped herbs.
Remove mackerel from the heat and serve.
Serving Suggestions
Lemon wedges, tomato salad and crusty bread.
Our recipes are supplied by Bord Bia.